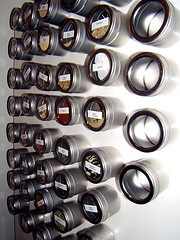 Spices are the pieces, fruit, roots, buds, bark, or flower parts of tasty plants. There is a wide variety of spices to choose from depending on your cooking needs. Let's take a look at the basic kitchen spices.

Cinnamon is a common spice used in many dishes and deserts. Aromatic and sweet, cinnamon is ideal in cappuccino, hot drinks, pies, cakes, maple syrup and puddings.

Allspice is a strong and scented sweet pungent spice. Its flavor suggests a combination of nutmeg, cinnamon and cloves. It can be used in fruits, cakes, poaching fish, jerk seasoning, stews and soups.

Aniseed has the flavor of licorice and its leaves can be used in warm milk, different teas, stews, baked goods etc.

Caraway Seed can be used in soups, meats, bread, stews and cabbage and has an intense flavor.

Cloves have an aromatic, strong and sweet flavor and are ideal for teas, fruits, puddings, meats, desserts and some vegetables.

Cardamom is an aromatic herb that is usually used for special occasions. It's good in fruits, coffee, sausages, custard and curry.

Coriander has a flavor similar to sage and lemon. Coriander is thought to increase the appetite and can be used in pastries, seafood, marinades, sausages, curry powder and Spanish or Mexican dishes.

Red Pepper is good in corn bread, chili, barbecue, eggs, fish and meats.

Paprika can be used in eggs, salads, vegetables, casseroles and soups.

Other kitchen spices include: black pepper, cumin, saffron, dill seed, turmeric, fennel seed, garlic, ginger, mustard seed, poppy seed, sesame seed and nutmeg.